Students
Lindsay's students have experienced success in both dressage and eventing competitions, but more importantly, Lindsay has helped students develop deeper relationships with their horses.

---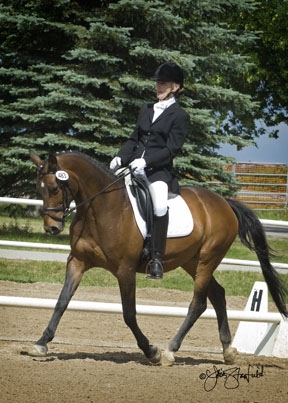 I choose to drive 72 miles every day to train at Pferde Farm with my horse for several reasons. First reason is the Trainer. Lindsay's teaching is superior. She is not only a talented and intuitive rider, but she also has an incredible eye for movement analysis. She has a gift for translating what she knows, feels and sees into the basics of dressage at all levels. Each lesson is different for each individual, and she always has a plan for each of us. And she gets results. I've taught in public schools nearly forty years and recognize "a natural teacher." Lindsay is one. The other reason I stay at Pferde Farm is the facility and the quality of care given each individual horse. Lindsay and Shelly have contact with each horse every day, and care for each horse. They are professionals in the best sense. Their support staff are also fine horsemen and women. About the facility: footing in the indoor arena is excellent; barn is not heated but stays comfortable in all seasons with great insulation and ventilation; paddocks of several sizes accommodate horses' turn-out needs. My decision to train and board at Pferde Farm was reinforced in May, 2007 when I had the privilege of attending a Conrad Schumacher clinic with Lindsay at Temple Farm, Illinois. Herr Schumacher is very strict with her. When he turned to me during the third day of the clinic and said, "…she has the potential to make the team", I realized why he expects so much of Lindsay. -Bev
---
I love riding with Lindsay. She is the only trainer that I have ever worked with and she is able to explain what she is asking of me so that I can understand. My cousin introduced me to dressage by having me out to Lindsay's place to watch a lesson. Since then I was hooked and was working at the barn within a couple of weeks. It is really great to have a trainer who has also become a friend. Currently I work at the barn one day a week and take a lesson on that day too. I look forward to that one day all week, every week. I feel that I have made great progress in my riding in the last year that I have taken consistent lessons with Lindsay. Finally, I look forward to showing in the upcoming season.
-Lindsay O.
---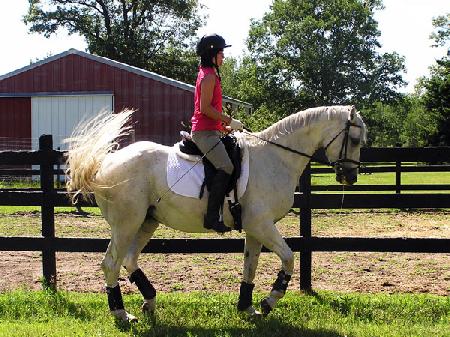 I have been in training with Lindsay Fuchs at Pferde Farm for over 2 years after having tried several other barns and trainers in the Twin Cities area. Working with Lindsay is a continually rewarding and evolving process which I hope will endure for the rest of my riding life. She has helped me improve my position, feel, connection with my horse, my overall riding, been patient yet held me to the highest classical standard. Along with her experience and keen eye I feel she is always searching for ways to communicate what is a technical yet ultimately intuitive art and discipline. Lessons are demanding but fun, based not only on where the rider is that day but also importantly, the horse. The barn is an intimate, down-to-earth, friendly place where people and horses alike feel well-treated and attended to. For me it is a rare mix of high attainment that is still relaxed. I simply can't imagine being anywhere else! -Evelina
---
I've learned more about feel and balance in the past year riding with Lindsay than I learned in the previous 5 years with other trainers. Lindsay has the ability to communicate the subtilties of dressage that benefits both the horse and rider. Under her guidance, Jem and I are becoming a solid team. And we're having great fun while working hard. Pferde Farm is a great place to be. The other riders make it a fun and supportive atmosphere. Show season is the best! There is always someone cheering you on. I've progressed farther than I thought I could and I'm just beginning! I can't wait for next year. -Mary
---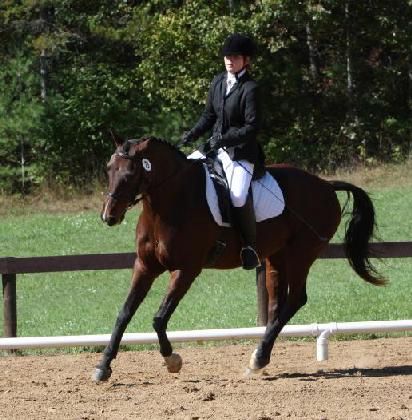 I was at the end of my rope when I came to Lindsay. My gelding Grady was the most difficult horse I have ever dealt with, and I had run out of ideas on how to "fix" him. When I first came to Lindsay I wasn't sure if I was going to keep Grady, but after my first lesson with Lindsay I knew that Grady wasn't going anywhere - and neither was I!! Our scores at shows are improving and Grady's attitude is much better. Before I started training with Lindsay, I was lucky if I could get around the arena once without Grady spooking. But now Grady not only goes around the arena, but is also a sensible show horse, is jumping 2'9", is a great trail horse, and enjoys a good gallop across a field. It has been fun to have the quality of his work noticeably improving. Since I began taking lessons from Lindsay I have become a much more subtle and aware rider. Lindsay has also been helping me with my mare Isis, and it's been really fun to be schooling for upper levels. THANK YOU LINDSAY!! Also a big thanks to everyone at Pferde Farm for the warm welcome. -Kristie
---
Lindsay Fuchs is unique. I have never known another instructor/ trainer that possesses such an exceptional combination of skills. Lindsay is not only an extraordinarily talented rider and competitor; she actively encourages the development of these qualities in all of her students at every level of dressage, whether introductory or the most advanced. Lindsay brings a level of professionalism to the instruction of her students that I have not previously experienced. She is always thoroughly prepared and this encourages the same level of preparation in her students. Lindsay balances the continued development of riding skill with the comfort level of the individual rider. My lessons are challenging and rewarding, both mentally and physically, and tailored to my individual needs as a developing rider. From every lesson in which I have ridden for Lindsay I have emerged enlightened, motivated, and eager to continue working on a newly acquired skill. As a trainer, Lindsay's skills as an advanced rider are immediately obvious. She is able to see and then develop the potential of a horse in training. Every horse that Lindsay trains is given the opportunity to achieve their full potential in the time that particular horse needs, based upon its individual personality, to accomplish the goal. She seems to have a limitless array of ideas and methods to help each horse acquire new skills and develop the quality of those skills. -Jo
---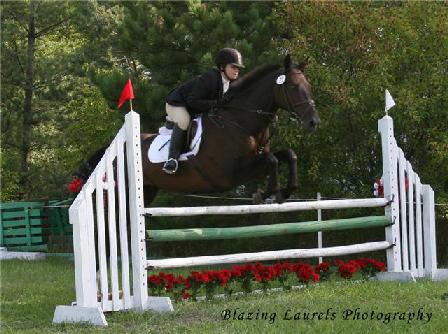 Lindsay is a consummate horsewoman; her passion and love for the horses and the sport shine through in everything she does. In addition to training and coaching, Lindsay is involved in the day to day care of the horses, ensuring each horse at Pferde Farm receives excellent care. Lindsay focuses her training on individual programs to maximize success for the horse and rider. Working with Lindsay has improved the overall ridability of my horse. Not only have my dressage scores dramatically improved, but so have my cross country and stadium rounds. Cannon's balance, responsiveness and adjustability have changed for the better since starting to work with Lindsay. -Jen
---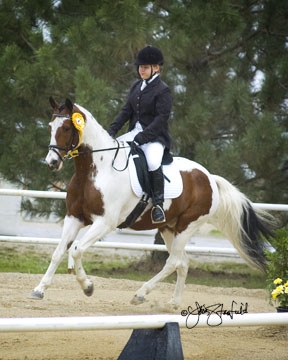 Pferde farm is like family to me. Lindsay is the best trainer I've ever had. She's the one who pushed me to do my best, knowing I could accomplish things I didn't think could be done. My pony, Rebel, and I went to our first recognized show in June 08 and placed at the USDF regional championships our first time out! THANKS Lindsay....you rock! -Taylor
---
In the summer of 2007 we began our search for a trainer to assist with starting our mare, Freya. She was three, just going on four, and was headstrong and spirited. We knew we were in over our heads in trying to start her ourselves. So began the search. After interviewing a number of trainers, our minds, hearts, and most importantly guts, settled on Lindsay. She was patient, hard working, and tough when she needed to be. Our mare blossomed under her care and instruction. In only a few months we realized that the horse we thought we may have to give up to a more experienced rider could actually be a working partner for ourselves. In 08, Lindsay took Freya (pictured) through her first year of showing, and through patience and persistence took her from a distracted youngster to a calm and relaxed working girl who was consistently scoring in the upper sixties by the end of the season. Lindsay claimed 4th place in the CSDEA Open Training Level awards for 2008 with Freya, and we look forward to the coming year.
Thanks! -Tammie & Todd
---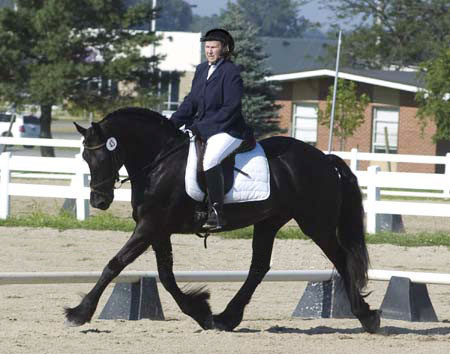 I moved to Pferde Farm in 2004 because it was the closest to my new home in Blaine and have been there ever since – happy both with care and training. I love the family run stable atmosphere and good group of fun boarders. Each horse is handled with thought and care. They treat every horse as if it was their own. Lindsay is an exceptional rider and trainer and I'm pleased she is training my Friesian mare 'Willy FR' who she helped me find. My mare has come a long way from broodmare status to a fit and happy dressage horse.
Natalie Perchyshyn